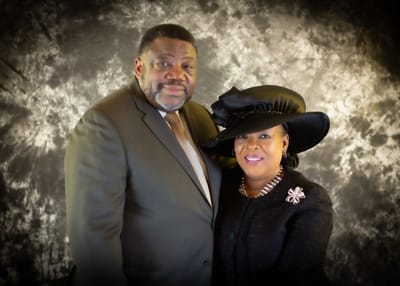 DR. ALFONSO PORTER is a native of South Carolina, the first son of ten children born to the late Albert and Vera Brown Porter. He received his primary and secondary education from New Jersey Public School System, and his Associates Degree in Electronics from RETS Electronic Institution, Nutley, New Jersey.
He holds a Bachelor of Arts Degree in Religion and Philosophy from Claflin University, Orangeburg, SC; completed the United Methodist Candidacy Studies for Ordained Ministry from Chandler Theological Seminary, at Emory University; and earned his Masters of Divinity Degree from Erskine Theological Seminary, Due West, S.C. Furthermore, Dr. Porter is a member of Pi Gamma Mu International Honor Society; received the Collegiate Minority Leadership Award; and served in the United States Army and the New Jersey National Guard. In 2014, Dr. Porter received his Doctoral Degree from United Theological Seminary in Dayton, Ohio.
In 1984, Dr. Porter received his calling into ministry, and his first pastoral appointment was at Shiloh Baptist Church, Newark New Jersey. During his tenure at Shiloh, he served as President of the Primitive Baptist Union Meeting Association of New Jersey, New York, and Pennsylvania, Inc. In 1992, he joined the South Carolina United Methodist Conference and was a Probationary Elder. He served as pastor in the Florence and Charleston Districts. Presently, he serves as Pastor of Majority Baptist Church, Florence, South Carolina.
Some of Dr. Porter's church and community affiliations include: NAACP Member; Honorary Member of the South Carolina Sheriff's Association Chaplaincy Program, Florence, South Carolina; the Summerville Ministerial Association; Hospital Chaplain at Roper-St. Francis Hospital, Charleston, South Carolina, a Minority Advisory Committee Member of the Second Congressional District (108th Congress under the Leadership of Congressman Joe Wilson) of South Carolina.
Dr. Porter is married to the lovely Lois D. Dixon Porter, his best friend and most influential person in his life for 40 years. They are blessed with five children: Tyrra, Kerry, Maurice, Latoya, and Stephanie, and are proud grandparents.
LOIS D. PORTER, a native of Paterson, N. J. is the wife of Alfonso Porter, Pastor of Majority Missionary Baptist Church. Lois is a faithful woman of God and the mother of five, Tyrra , Kerry, Maurice, Latoya and Stephanie. Mrs. Porter is a Certified Lay speaker and is always ready to witness to others of the goodness of God.
Reverend and Mrs. Porter have been partners in Ministry since 1982. Their mutual ministerial Partnership is focused on comforting the broken hearted, and providing a holistic ministry for all of Gods people and they are always willing to meet people at their point of need.
Lois has over 21 years of Retail / Human Resource experience, Certified tax preparer, Certified computer technology, and is currently the Attendance Secretary at Fort Dorchester High School, N. Charleston, SC (lporter@dorchester2.k12.sc.us)
As the first lady of Majority, Lois is looking forward to fulfilling her passion of ministering to all who find themselves in a broken state and is looking for the Comforter. "Bring your burdens to the Lord and leave them there". It is First Lady Porters' desire to assist those who are seeking a true relationship with the Master.